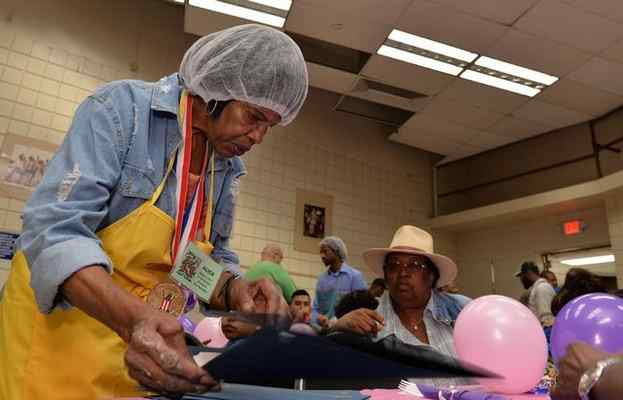 Alice Robinson goes through certificates of appreciation at the 14th Anniversary of the Friends of Alice Robinson feeding program at Martin Luther King Jr. Park's Social Hall. The lunch takes place on the first Wednesday of every month. (Photo by Brittany Murray, Press Telegram/SCNG)
By Brennon Dixson, bdixson@scng.com, @TheBrennonD on Twitter
People gather at the 14th Anniversary of the Friends of Alice Robinson feeding program at Martin Luther King Jr. Park's Social Hall. (Photo by Brittany Murray, Press Telegram/SCNG)
Alice Robinson's radiant yellow apron and thin stature managed to stand out in a crowd of dignitaries and hungry residents Wednesday as Central Long Beach's tight-knit community gathered to celebrate the 14th anniversary of the Friends of Alice feeding program.
Representatives from State Sen. Ricardo Lara's office, Sixth District Councilman Dee Andrews and several volunteers joined Robinson in the presentation of Lara's 2017 Excellence Award, given to those who improve the quality of life for residents within the 33rd Senate District.
Robinson, humble and reserved, took the podium to thank God, family and friends for participating. She said, "If it wasn't for them, then I guarantee there wouldn't be a program today."
Since 2003, Robinson's program Friends of Alice has served a free meal on the first Wednesday of the month at Martin Luther King Jr. Park.
The monthly program has served over 10,000 meals, using money from Robinson's own Social Security pension.
Growing up on a farm in Tuscaloosa, Alabama, Robinson first became inspired to feed others by watching her mother serve meals to neighbors. "It's something I like doing and my parents did it so it felt natural to follow in their footsteps," Robinson said.
Robinson, her daughters and the dedicated team of volunteers continue the family tradition of providing hot meals, drinks, and a small dessert to all who attend the monthly gathering.
After the awards ceremony, near silence overcame the room as attendees had a chance to grab what they came for: home-cooked food.
The invitation from Andrews to "eat as much as you can" was not taken lightly as young, old and hungry residents ate fried chicken, veggies, potato salad and cake that would come later.
Robinson calmly sat at a table while her loved ones scrambled to serve the nearly 75 residents who filled the social hall of Martin Luther King Jr. Park.
Friends of Alice started with a goal to feed those who need a free, hot plate of food while providing them with a safe location, but it's now grown to a monthly community meeting place where everybody comes to socialize.
Most communities today are sectioned off from each other, said Maria Armstrong, a volunteer with the program.
"Here is a place where low-income, homeless and that other nonsense doesn't matter," she said.
City officials, police and the homeless sat side-by-side listening to music, exchanging ideas and talking politics.
The Rev. Juanita Matthews said, as she took a bite, "Good food, good fun, good people. There's no better way to spend a Wednesday."
Robinson's commitment and generosity to feeding those in need have been a blessing, Andrews said of Robinson: "She knows how much I appreciate her and all her efforts in our wonderful community."
For those in need of a hot meal, Friends of Alice Robinson serves a free meal the first Wednesday of the month at Martin Luther King Jr. Park. For more information, call Andrews at 562-570-6816.